"Person Of The Year 2007": The Competition Has Begun!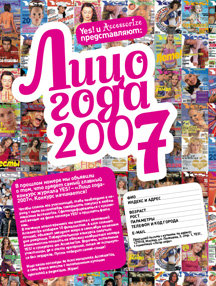 The contest "Person Of The Year 2007" was announced in the June issue of Yes!. Readers who would like to take part in this pageant should buy any article of clothing in the Accessorize chain of shops from July till September, and then take a picture of herself and the purchase on the background of the corresponding poster from Yes! - and send the photo to Yes!. Ten finalists will be announced in September at the magazine's party, which will be full of other pleasant surprises. Each girl will have to pass difficult tests to convince the star jury that she deserves to be called the best. There are ten nominations: "Miss Dancing", "Miss Singing", "Miss Witty", "Miss Artistic", "Spectator Prize", etc. The Winner will appear on the cover of November Yes! and receive a super-prize. However, other participants and visitors of this event will not be left without gifts.

The event will be held in one of Moscow's central parks on the birthday of the magazine. The spectacular show will be set off by the rays of the Indian summer sun. There will be fun for everyone! There will be small pavilions set in the remote corners of the park, and a VIP zone, and of course there will be an onstage performance, not to mention the lottery.

Yes! has been holding the contest "Person Of The Year" for many years. Girls from various Russian cities have been chosen as finalists. There were finalists from Ekaterinburg, Nizhni Novgorod, Samara, Donetsk and even from the Baltics countries. Sometimes the contest changed the girls' lives. For example, one girl moved from Novosibirsk to Moscow and went to modeling school.

We'll find out what changes await for the girls in year, and who will win the main prize and the title "Person Of The Year 2007" at the birthday party of Yes! in September.