Yes! In July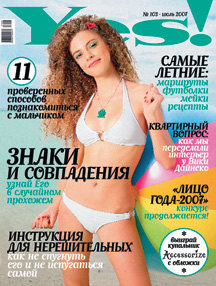 The best summer routes, T-shirts, recipes and make-up are featured in the July issue of Yes!. It is possible to be impudent during carefree summertime, forgetting about strict rules. High time for bright shadows, cheerful nail enamels and cool T-shirts - the summer demands courageous experiments. The July issue of Yes! insists on an unexpected and adventurous vacation. Readers can choose between equally perfect low key routes: Evpatoria, Koktebel, Yalta, Simeiz, Gelendjik, Tuapse, Seliger, Kareliya, etc.

Also in this issue: Yes! changes the interior of Vika Dajneko's new apartment, helps to decipher the confused messages from high above (shall we trust them?), thinks up 11 original ways to get acquainted, transforms the theory into practice and goes hunting.

And at last, the main news of July - the competition "Person of the Year 2007" has already begun! The winner will be announced by the celebrity jury in September, at the magazine's birthday party.

The winner of the competition will have an opportunity to get on the cover of the November issue and receive a super-prize.

Details - in July Yes!.