Your Own Psychologist In Mini Format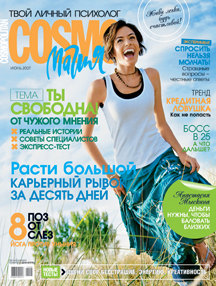 The renewed version of Magia Cosmo hits the stands on May 22nd.

Magia Cosmo first came out in September 2001 and became a favorite of
educated seeking to understand themselves and find harmony
within. The main topics covered were astrology, palmistry, fortune-telling,
esoterica and feng-shui. The magazine worked within this concept for 5
years.

These days the publication plans to significantly broaden its audience by
changes both its looks (new design, mini-format) and contents.

"The new Magia Cosmo is a glossy publication for young women about popular psychology and the art of happy living," said Svetlana Gulyaeva, the renewed magazine's editor. "We will feature a lot of experiments with actual people. From real-life examples, our readers will learn how to change for the better and achieve harmony in 2-3 weeks. We'll also publish numerous interesting and in-depth tests, that will help our readers to learn a lot of new things about themselves, like their psychotype or emotional index. We are oriented to the broad audience and we are sure that the new product will find its consumer".

The main distinction of Magia Cosmo from existing magazines on psychology is its approach, best summarized as " treading lightly on serious subjects". The magazine will cover even the most difficult issues in understandable and witty Cosmo language. There must be a reason why the slogan of the magazine is "Live light, be happy".