Yoga Journal Library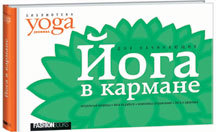 Fashion Books Publishing, together with Yoga Journal is issuing a new series of books about yoga.

The first issue from the Yoga Journal Library is called "Yoga in Your Pocket. A Short textbook of Exrecises for Beginners." The book describes the Ayengar method, noted for its exactness of instructions and the correct execution of its poses. The issue includes basic yoga exercises that can be done as at home or at work. This textbook is intended for beginners, and that's why it written in easy to understand language and illustrated with helpful pictures. It also has answers to actual questions. The manageable size of the book makes it handy for traveling.

The publisher plans to issue several books in this series. The working title of these books are Life Light: Yoga, Yoga Sutra Patanjali, Yoga in the Pocket: Women's Practice.