National Geographic Russia photo-exhibition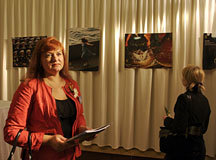 March 5 saw the opening of an exhibition of female photographers at the Biology Museum of Timiryaev. This exhibition is the joint project of the Yves Rocher Company - the founders of the Terre de Femmes - Women's World prize and National Geographic.

There are really beautiful works at the exhibition. The best of them are
Jodi Cobb's photography about the beauty of Saudi women, as well as the works of Jinks Roger and Mary Stencil.

The authors have precisely reproduced features of various historical periods from different countries.

National Geographic Russia Magazine's photo-exhibition will run until March 18.