A Traveler's Textbook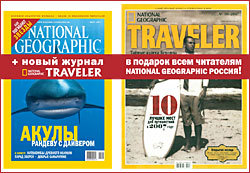 In March, Independent Media Sanoma Magazines will launch National Geographic Traveler, the Russian version of the popular American travel magazine, which in the last 20 years has gained the widest readership among publications of its kind.

NG Traveler is a kind of textbook for frequent travelers. In the magazine, travel stories are accompanied by all the necessary practical information - from visa registration and ticket booking processes to the peculiarities of ordering tables in various restaurants and nuances of railroad travel.

In March, NG Traveler comes out packed together with National Geographic. Thus, a customer of National Geographic Russia will purchase two magazines at the price of one.

The launch of the project will be accompanied by an advertising campaign on cityboards at Sadovoye Ring, advertising stickers in Moscow underground and displays in business centers.