With Yoga into the New Year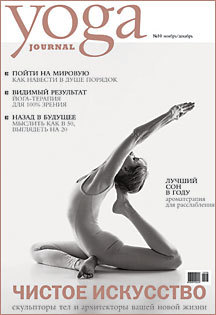 Everybody who comes across Yoga Journal sooner or later starts practicing yoga. And even if there are still some readers who just want to begin practicing, the new issue (November - December) will leave them no choice. In "The Yoga Art" article, the best American teachers show their skill in doing the most difficult asanas. Looking at these amazing black and white photos, it's impossible not to fall in love in with yoga and sign up for a class right away.

In addition, in the New-Year issue journalists report on how to enter the depths of one's unconscious with the help of a sensory deprivation chamber, relate the history of the tea ceremony and describe the magic powers of precious stones.

The supporting advertising campaign will be held on Relax FM radio station.