Moscow Guide Autumn 2006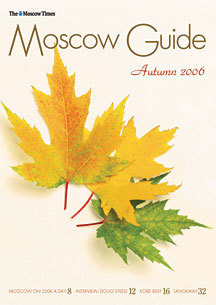 On October 26, The Moscow Times has released Moscow Guide Autumn 2006, the latest issue of its seasonal supplement. The issue was prepared by the new editor-in-chief Irakly Iosebashvily.

The News section contains reviews of the largest cultural and social events held in Moscow this fall: including the opening of Mamma Mia! musical, Food Show and Millionaire Fair. The new Fashion section is devoted to accessories necessary during a trip. Traditionally Moscow Guide includes detailed descriptions of recently opened fashionable restaurants, as well as the latest restaurant listings. The interview is also devoted to the dining. Doug Steele, the owner of Hard Rock Café, shared his plans on opening new restaurants and latest trends in the catering business.

In addition, Moscow Guide has introduced several new sections which will become regular. In the Music section, the editors have presented the article about Russian rock, as well as most significant events in the cultural and theatrical life of Moscow. The Community section is devoted to collecting unusual art and domestic objects. The Sport section has introduced the article containing information about four kinds of martial arts (aikido, kung fu, boxing and sambo) and advice on self-defence.

The next issue of the supplement - Moscow Guide Winter 2006 - will come out on December 6.