Yes! Announces Super Auction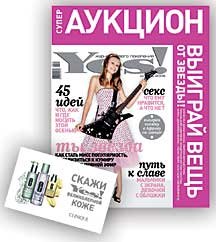 For the first time ever, Yes! magazine gives its readers a unique opportunity to win celebrities' personal items!

Lots for the super auction were provided by Dima Bilan, Sergey Lazarev, Julia Savicheva, Lera Masskva, Alexei Chadov, Dmitry Sychev, Gluk'Oza, Diskoteka Avaria, Dinamit, Nikita Malinin, Sasha Savelieva, Roma Zver, Konstantin Kryukov and other celebrities. All items are one of a kind. Yes! invites everyone to participate in the auction!

Yes! holds this auction as part of its charitable program. Half the money will be transfered to the Vyshegorodskaya supportive correctional children's community.

In addition, in October Yes! has released a special supplement worked out in partnership with Clinique. The supplement combines a guide for skin-care with advice from Clinique and a notebook. With the help of this brochure, readers will define their skin type and choose an optimal treatment. The supplement can be found on the first cover page, and is sure to attract customers' attention.