Magia Cosmo Celebrates 5th Anniversary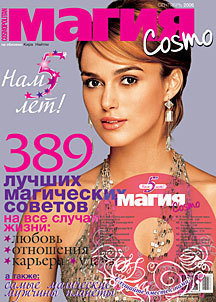 Five years ago Magia Cosmo magazine was the first to declare that a contemporary stylish and sophisticated girl should certainly have an idea of aromatherapy, numerology, astrology, Feng Shui and other modern magic trends. Indeed, magic, if used properly, makes life much easier!

The most effective psychological trainings to help you become more self-confident and successfully achieve targets, Eastern practices for good health, mental balance and a slim figure, opinions of best experts on the most significant questions, and the most exact horoscopes and moon calendars - you'll find it all in Magia Cosmo.

In the anniversary September issue Magia Cosmo's team gave its admirers an opportunity to receive everything at once and chose the best materials from the last five years. In the "Large Hot Line" editors collected interviews with the most interesting people in the world - from the Dalai Lama and Paulo Coelho to Robin Sharma and Robert Turman. "Private Magic" gives a chance to learn celebrity secrets that you won't discover in interviews. With the help of the September issue readers can make a journey to the most magic places on Earth, find out how compatible they are with their partners, recall the names of the main chakras, and read fortunes using apples, buttons or candles. Finally, the editorial has created a psychological portrait of Magia Cosmo reader. She lives in the real world, but doesn't forget that there are a lot of magic things in it!

For its birthday, Magia Cosmo is giving every reader a CD with relaxing classical music.