RB.ru Video Archive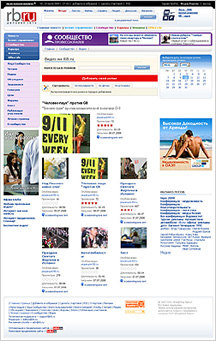 Interactive business website RB.ru has launched a new project - a section of video archives called "Video at RB.ru". Public video hosting at RB.ru is quite large, containing more than 600 videos and quotes.
RB.ru users have been publishing their video files since the website debuted. At that time, however, they could host them only in their Community blogs or in articles. Today all the video files are aggregated in one place at www.rb.ru/video. This video archive can be filtered by tags, sources and ratings. Moreover, users can hide their video files from other viewers by marking them as "friends only". Users can also comment on the videos, email links to their friends and publish them in online diaries at RB.ru and other blogs.
The new service will help users to find interesting videos on professional subjects. The nucleus of the archive is composed of video quotes by famous politicians, businessmen and experts, users' video stories captured by the editors of RB.ru.
The section "Video at RB.ru" will be available at the opening website menu but for now it's linked to the main page. You can find details at the RB.ru editors' blog.
RB.ru is an interactive website for specialists, managers and bosses. The content is targeted at office workers and includes news, professional community, business guides, private investments, career growth services and unique entertainment section on Office Life. The project is part of Independent Media Sanoma Magazines business editions.