The Moscow Times Recommends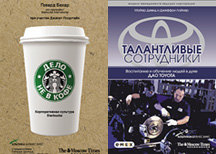 The Moscow Times and publishing house Alpina Business Books have launched a joint project promoting books written by business gurus. This is a series of bestsellers with a special mark on the cover that reads "The Moscow Times Recommends".
The following books are already being sold: It's Not About the Coffee: Leadership Principles from a Life at Starbucks, and Toyota Talent and Market Calls. A Guide for the Cynical Investor. The Moscow Times is now following European and American journalistic principals promoting a Western approach to business management in Russia. The newspaper uses editorial materials and special projects like business conferences, workshops (Student Project) and charity projects (Create Yourself).
The Moscow Times is the only Russian English-language daily newspaper. It is the basis of Independent Media Sanoma Magazines business editions. The newspaper has been published in Russia since 1992. The Moscow Times publishes a series of real estate editions (Real Estate Catalogue, Real Estate Quarterly), entertainment editions (Moscow Guide) and career and education editions (Jobs & Careers). Russian and international business conferences are also an integral part of the newspaper. In 2006, The Moscow Times started printing and distributing the International Herald Tribune in Moscow.