Kind Stories In The Moscow Times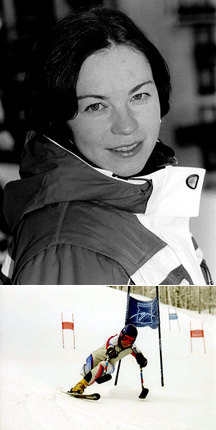 The Moscow Times has began a series of publications about people who have faced severe health problems but still managed to live and develop their personalities. Some of them are even more successful than people with perfect health. These publications are part of the charity program "Create Yourself".
A new section called "Kind Stories" at www.sotvorisebya.ru presents the story of Inga Medvedeva, Paralympic champion in downhill skiing. Inga has only one leg.
'We have agreed to meet in Coffeehouse on Belarusskaya. I was a bit late so I just rushed into the caf_ not noticing anyone including a pretty young lady with a small baby belly who was standing right in front of the entrance. Then I called Inga and we finally found each other. She is a 27 year old Paralympics champion in mountain skiing but you can never tell that she has only one leg when you see her walking in the streets. She is having a baby in September. Inga told me her story while we were drinking tea.'
You can read the whole story at www.sotvorisebya.ru.
If you know stories like that, even if they are about simple achievements, please don't hesitate to send them to
elenav@imedia.ru
with the subject "Kind Stories".