National Geographic Russia Is Building Noah's Ark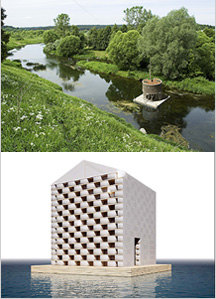 National Geographic Russia is the informational partner of one of the most unusual cultural events of summer 2008, which will take place on July 19-20 in the Kaluzhsky region, on the banks of the Ugra River - the Arks-2008 International Festival of Landscape Design. The main subject is of this year's festival is Noah's Ark.
Natural disasters have been occuring with frightening regularity in the last few years. Floods in UK and Australia (July and August 2007), hurricane Katrina (2005), the tsunami in the Indian Ocean (2004), in addition to melting glaciers. While water can be a source of catastrophes, it is nevertheless something that humanity cannot live without. This was the main theme of the works presented at the festival.
Five art objects - eco-friendly houses on water - were designed by Russian, French and Finnish artists and architects. They will float down the Ugra river, and at 2pm on July 19, reach the village Zvizhi to take part in the "Raft Parade". After that they will float down again to the traditional festival site, Nikolo-Lenivets. There will also be an open-air party there with a photo exhibition called "Noah's Ark/Basics" located in the 15 hectares field.
The July issue of National Geographic Russia will be presented as part of the festival. In this issue the readers can find an article about the brightest and most extraordinary art objects of the world. The logo of the magazine is imprinted on the festival brochure and on billboards.