Yoga Journal Weekend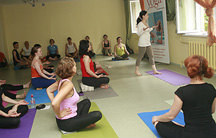 Yoga Journal organized another annual weekend on 19-20 July in Pavedniki. This time, the instructors from Moscow yoga studios gave master classes. Elena Ulsambaeva taught pranayama in sitting and standing positions and she also led a master class in woman's practice. Konstantin Kovalev revealed the secrets of balancing on the hands and Tatiana Rudneva from Lotus studio dedicated her master class to one of the main yoga asanas - Padmasana.
Ravi Kumar led a session of yoga nidra (deep relaxation). The chief instructor of studio NYM Yoga, Olga Liubomirova, showed exercises which improve body posture and straighten the spinal cord. Elena Morozova taught hatha yoga, Varvara Liubimova taught yoga 23, and Vitaliy Apostolov led a class in ashtanga yoga. Stanislav Rogachev from Health Factory introduced the basic principal of chi-gun, Vasily Orekhov presented Madhusudan yoga and a teacher from the ayurvedic centre Kerala combined pranayama practice and hatha yoga practice in one lesson.
Tea club Iron Phoenix organised a tea party right in the middle of an apple orchard. The cosy atmosphere of this impromptu teahouse was like a magnet for the guests, who wouldn't miss a chance to chat while sampling the finest tea blends.
Yoga Journal would like to thank gallery "Maharaja Interior" and Yuri Aistov. He helped with the design and invited Dr. David Frawley, one of the most worldwide famous ayurveda experts. Thanks to Yuri, the guests had an opportunity to find out more about ayurveda and get qualified advice.
Each participant of the Weekend received a present from Dreamusic - a disc called Best of New Age, which includes the best new age musical creations of the last 10 years. Guests also received presents from Decleor: aroma toning balm for more elastic skin and aromatherapy body care. Both products are made of natural components and essential oils.
Yoga Journal would like to thank all its partners and instructors who led master classes for support. And, of course, we thank everyone who came to the Weekend! See you soon!