National Geographic Adventure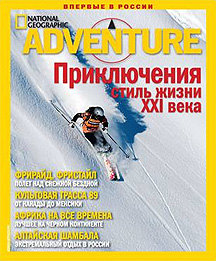 Readers of National Geographic Russia will receive an unexpected surprise in September: this month's edition is published together with the first Russian issue of National Geographic Adventure.
National Geographic Adventure is a legendary magazine about active lifestyle, travelling, discovery, sport and adventures. It is a modern, fascinating and practical publication that gives fresh and trustworthy information. Each issue is full of unexplored routes, exploration of the world's heights and depths, practical advice, stunning facts and gorgeous eye-catching pictures.
A National Geographic Adventure reader is adventurous, goes on exclusive and exotic vacations and leads a healthy life. National Geographic Adventure is the only magazine in the world that is dedicated to real adventure, active sports and unusual travels.
The first Russian issue of National Geographic Adventure is published in September 2008 and distributed together with National Geographic Russia (140 000 copies). There will be two issues of National Geographic Adventure in the year 2009 (first and second half).
In the first issue: Morocco, Libya, heliboarding, snowboard freestyle and freeride championships, bikers, dog sledding, a motor rally from Canada to Mexico, the best African routes, mountain bikes, club life and much more.