Happy Birthday To Yes!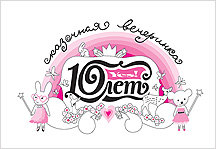 Ten years ago young fashionistas welcomed the first issue of Yes! magazine. Since then the circulation has grown from 50 000 to 200 000 and the magazine has increased up to 200 pages. Yes! is keeping its leading position among publications for young people, with a Russian audience of 697,600 people.
A series of celebrations for readers and partners was planned for this year. Parties at the ice rink in Evropeisky shopping mall took place each Wednesday in January and February. The most romantic of awards ceremonies - "Your First Love Story Film"  - was held at the B1 Maximum club on February 13. The first kite school for girls, called Yes!GirlZone, opened its doors in Egypt this May. In the summer, Yes! sailed on board a pirate frigate and gave parties every Thursday. In August, Kinostar de Lux cinema welcomed a Yes! photo exhibition.
On September 13, Yes! invites its readers, advertisers and partners to Ekaterininsky Park to celebrate the 10th Fairytale anniversary of the magazine.
Guests will have an opportunity to win prizes from fairies: a voucher to Disneyland, a pink Yes!-car, a voyage to Greece and air tickets to any place in the world. Other events on the agenda include the final stage of the "Face of Yes.com" contest, stars and celebrities in the living room of Yes!-Stars, parkour lessons, videogames, master classes on hair design, intellectual games, sailing the fairy-pond on magic boats and fantastic fireworks. Hosting will be Aleksey Vorobiev and the cast from the popular show "Daddy's Girls".
Ranetki, Dmitry Koldun, Chelsea, BIS, Nastya Zadorozhnaya, Vlad Topalov, Kira Plastinina, Dino MS 47, Basta, T9, Dzhanni Radari, Delta, Ed Shulzhevsky, Barkhat and other stars will congratulate the magazine from the stage.
Those who won't be able attend the party can watch an online broadcast at www.yes.com.ru and www.smotri.com.
Look for more details about Fairytale birthday on the pages of Yes!
Main informational sponsors of the event are: radio station Love Radio, national video hosting Smotri.com and alternative music channel A-One. A promotional campaign in the streets (banners and city posters), on radio station NRG, at Mail.ru, in colleges and Luxor cinemas began on September 1.