RB.ru Celebrates First Birthday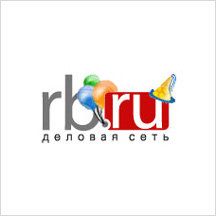 On 3 September 2008 business website RB.ru has celebrated its first birthday. The official launch was exactly one year ago. Many things have changed since then, new projects and services were added.
RB.ru is the first Independent Media Sanoma Magazines edition which is published online only. The project was targeted at the readers who spend most of their time in offices, and the editors have tried their best to supply the audience with all necessary and helpful tools: business news, insider information, career advice, and various everyday solutions. Apart from all that RB.ru has introduced unique section Office Life, which tells about different aspects of work in offices. This section offers the readers exclusive stories about work in different companies, rumors about top managers and business owners, detailed survival instructions and so on.
A lot of interesting articles were published during this and the number of Community members is more than15 000 people. Speaking about the audience in figures average daytime audience is approximately 100 000 unique hosts and 150 000-200 000 unique hosts in peak days. More than 1.5 mln readers visit the website daily. These figures help RB.ru keep top positions in top20 online mass media list. But the most important aspect is the audience. According to marketing research the audience is basically made up of managers and leaders aged 25-40. It means that RB.ru concept has attracted exactly the audience it was targeted at.
The website team cordially congratulates every person who spares no effort to make RB.ru even better, more useful and more interesting, and all the readers, Community members and guests!