Cosmo Magia: Happy Number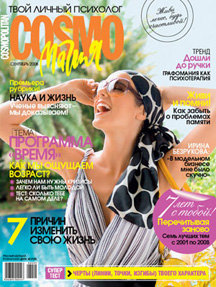 Seven wonders of the world, seven colors of the rainbow, seven notes in the octave, seven days in a week… Seven has always been considered a special, magical fissure. This year Cosmo Magia is feeling the influence of the seven, for the magazine turns seven years in September.
It was Pythagoras who had discovered that any being renews itself every seven years, and contemporary scientists only confirmed that. Cosmo Magia is a vivid example of this theory: it celebrated the seventh anniversary in new format "Your Personal Psychologist".
The age of Cosmo Magia is experience multiplied by the time. That is why September issue combines 7 best subjects of the previous 7 years and the magazine writes about the changes in understanding of these acute topics. Cosmo Magia has a premier in September – it is a new section. When we want to persuade someone in something we turn to scientific data. But how do these facts correspond to real life? New section "Science and Life" will try scientific approach when dealing with problems. For instance, is it true that speaking out of negative emotions really diminished their destructive effect?
Anyway, Cosmo Magia is not hiding its age. That is why the main September issue is age and people's attitude to aging. Take it easy and be happy!