Seasons Magazine and The Good Things in Life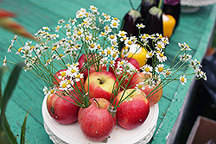 The event we had been waiting one year for - the festival of the magazine Seasons - was held for the fifth time in the Hermitage Museum garden on September 21-22. It was another miracle-laden event organized by Seasons and its friends. In truth, the main miracle was attributable to another source - the sun, which broke through a thick layer of gray clouds on the first day of the festival and generously warmed participants all day Sunday.
The theme of the festival, and of every Seasons issue in 2008, was "The Good Things in Life." Not only is it pleasant to speak about and write on that theme, but asking your friends to share their feelings with you makes it doubly gratifying.
Dream House was dedicated to the joy of creativity, and here decorators were given freedom to pursue their dreams. Guests walked along Home Street for the pleasure of giving, and here an array of stores that are in short supply in Moscow was concentrated: small galleries, stalls and antiques stores holding every imaginable item, from old-fashioned irons and handmade earthenware saucers to dolls, Indian shawls and rag beads.
As a gift from Seasons, visitors enjoyed a pleasantly nostalgic experience strolling the shady alleys of Antiquarian Street. Here guests could dance to swing music, be photographed in a typical Zaporozhets automobile, and try on vintage dresses from Goodbye, London. Florists created a flowery area conducive to quiet meditation, and the Web portal Cloudwatchers invited guests to watch the swiftly passing clouds through a telescope. In the children's area, kids experienced the joy of flying (every child at the festival wanted to try it), while adults passed the time at the Gastronomic Area - that had the pleasure of treating others. Simple Things and Bread & Co. provided food for the guests, and The Chocolate Parlour handed out sweets. Visitors warmed themselves with mulled wine during overcast weather, and refreshing watermelon once the sun had come out.
Decorators, florists and head chefs held master classes for creative people and those who are like working with their hands. They instructed participants on how to transform a bird cage into a lamp, how to prepare coffee and soup, and in the art of candle making. The Manders Design Bureau and decorator Varvara Zelenetskaya gave free consultations for everyone interested in improving their homes, and L'Oreal Studio offered yoga lessons. Appearing for the first time this year, Seasons Shop sold items produced in limited quantities especially for the festival - canvas bags, kitchen aprons and towels, children's shirts and soaps for the home.
Keeping children occupied is always the most difficult task, but organizers solved it quite easily at the festival. First, children crowded together on Smart Balls mats on a green lawn. While their parents enjoyed lying on various pillows and bean bags, their kids of all ages jumped (with a running start) on soft and light puffy forms, built fortresses from them, and turned them into miniature Mt. Everests. The only thing that could tear them away from that activity was the performance by the absolutely brilliant theatrical artist and director, Arseny Epelbaum, in which he rescued a beautiful princess from a candy tower made of meringue and cookies. After the children stormed the fortress, some of them had to change clothes - having soiled their togs with the tastiest "dirt" imaginable. Visitors then moved on to the next attraction, where the distinguished soap maker Vera Kornilova taught interested people how to make their own soap. The Cloudwatchers also provided aspiring young artists with the materials needed for rock painting.
On both evenings, all the festival participants danced and sang - adults joining in the fun with their children and happily forgetting the usual cares of the day. On Saturday, Pyotr Nalich led the fun, and on Sunday it was the group Prime Time. Everything turned out even better than planned. Festival participants were amiable, lovely and kind. By the way, our guests even posed for fashion photos to be included in the November issue of Seasons. Many people mentioned that if everyone were as nice as the festival participants were, life in Moscow would be much easier and more cheerful. That is what we will aspire to. Thank you to everyone who participated!