Good Taste Begins in Childhood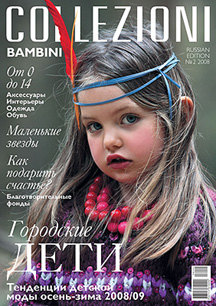 September saw the release of the newest issue of Collezioni Bambini, the only magazine devoted exclusively to fashion for children -- from toddlers to 14-year-olds. The publication traditionally presents children's collections by the world's leading designers. Both adults and children will be pleased to read Collezioni Bambini's autumn issue that includes advice for mixing and matching, views from the catwalk, and lessons for beginners about the world of fashion and style.
Also in the autumn issue:
Accessories: Readers will find a jewelry gift for newborns in this issue -- a grand tradition and the first contribution to your little one's private treasure chest;
The Main Character: Young show business stars, sports and music;
The new Close-Up section: As much as possible, we try to focus our readers' attention on the details that modern children find memorable: sparkling studs and rhinestones, embroidery and pearls, as well as unique clasps, fasteners and buckles;
In Master Class: Just Like Mamma -- a selection of things for mothers and daughters to dress in the same style;
Silly Photo Sessions: Teddy-bears adorned with assorted children's caps, and dogs sporting sunglasses;
In Impressions: The greatest achievements and the latest beneficial activities for children.
And don't forget: Good taste begins in childhood!