NG Traveler: Concert on Mt. Elbrus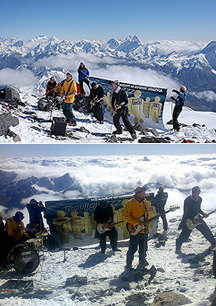 On September 30, National Geographic Traveler magazine acted as the informational sponsor of the highest-altitude rock concert ever. Despite hurricane-force winds and freezing temperatures, the musicians of Tequilajazzz were able to give a concert at an elevation of 4,800 m., just 842 m. short of the peak of Mt. Elbrus.
"No problem," declared Evgeny Fedorov, the leader of Tequilajazzz. "Considering the conditions we had, I think the concert was 100 percent successful - no ifs, ands or buts. Of course it's a shame we couldn't go all the way to the peak, but you should have seen the concert we had! I even envied myself."
The promotion was part of the global ComeToRussia Project (www.come-to-russia.ru) that seeks to open a new epoch in formulating Russia's national image. ImageRussia 2.0: The more people working on Russia's image, the better it will be. The goal of the Elbrus concert was not the establishment of a new world record, but to break down people's stereotypical thinking.
Tequilajazzz will give a concert on October 10 at Moscow's Gogol Club. The event will include a press conference announcing the results of the promotion, and the screening of a film recording the group's Elbrus ascent. All guests at the concert and press conference will receive complimentary copies of the latest issue of National Geographic Traveler.