The Moscow Times: New Year's in October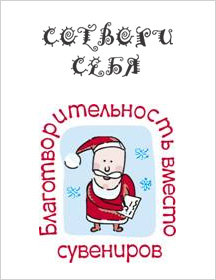 The Moscow Times is supporting the "Charity Instead of Souvenirs" initiative. The newspaper is inviting its friends and partners to the October exhibition of art objects titled "New Year's in October." The newspaper's charitable program "Create Yourself" is a co-organizer of the exhibition to be held October 15 at the M'Ars Gallery in Moscow, on Pushkarev Pereulok, building 5.
At this event, well-known Russian designers and artists will auction off their works to raise money for orphanages, children's clinics, boarding schools and charitable organizations participating in the Create Yourself program. Visitors to the exhibition will be able to view and bid on original works by Andrei Bartenev, Andrei Bilzho, Denis Simachev, Irina Gafina, Alexander Tsigal, Viktor Freidenberg and many others.
The New Year's in October exhibition will be staged in support of the "Charity Instead of Souvenirs" program that encourages major companies to forego giving corporate New Year's gifts to colleagues and business partners, and to voluntarily donate the money saved to the needs of orphaned and seriously ill children, handicapped citizens and the elderly.
The auction will include original children's artwork from The Moscow Times' Create Yourself program. The money will be used to help one of the program's beneficiaries - 7-year-old Egor Kostikov - buy a new cochlear apparatus.
Additional information is available from the co-organizers of the VVA Com exhibition - Elena Koryakova +7 926 223 0002 and Viktoria Chelnokova +7 926 154 5446.