NG Traveler Opens Snowboarding Season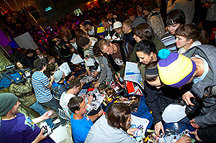 The premier of a film on Russian snowboarders, Kukhniya (Kitchen), was held in the Pushkin Movie Theater on October 2. The 1,500-seat theater was packed, and people were being turned away at the door. That should come as no surprise, since this is the first Russian-made film about snowboarding. It was filmed in Norway, Kamchatka, Krasnaya Polyana, Sweden, Greenland and Chili.
Russia's nine best snowboarders displayed their top-flight tricks and original boarding styles. They are: Alexei Osovitsky, Maxim Balakhovsky, Viktor Teimurov, Artyom Teimurov, Andrei Moskvich, Pyotr Yastrebkov, Alexander Bragin, Alexander Moroz and Dmitry Fesenko.
During the autograph session, National Geographic Traveler presented gifts to the snowboarders profiled in the film. Prior to the screening, all interested guests had an opportunity to fill out questionnaires about their travels and receive a free issue of National Geographic Traveler in return. The magazine's logo was projected on the screen before the movie started.
The film will be released on DVD on October 10, and will be sold in audio-video stores and sports shops.
The film's official website is www.kitchenfilm.ru.