Interni in October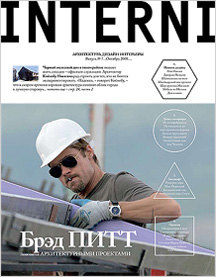 The October issue of Interni profiles an interesting personality - Brad Pitt. He has more than just a passing interest in design: Mr. Pitt takes lessons from Frank Gary, does voiceovers for TV shows on design and architecture and plans to build a hotel in Dubai. But his main architectural initiative is a project to rebuild a New Orleans residential district that was destroyed by hurricane Katrina. He has invited 13 architects renowned for their focus on the ecology to participate in designing ecologically sustainable homes.
The issue will also feature stories on prefabricated homes in California, Japanese-style log houses, five Soviet-era architects in "They Built the Motherland," nine beautiful autumn gardens from around the world and the best examples of design bordering on pure art.
The October Interni will also present Moscow's first Design Guide 2008. The Russian-English publication is targeted at professionals and a wide range of people interested in modern design. The Design Guide will be distributed throughout Moscow during the iSaloniWorldwide and over the course of the year at major global design exhibitions.