Moscow Guide – Autumn 2008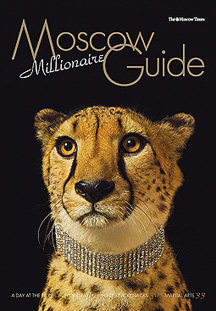 Greet autumn with the Moscow Guide – Autumn 2008, a full-color glossy insert to the Moscow Times newspaper. The special theme of this edition is the pleasant side of Moscow life. And what could be more pleasant than to be a millionaire in one of the most expensive, lively and commercial cities of the world?
Coming back down to earth, one of the greatest pleasures in the hustle and bustle of everyday life in the capital is undoubtedly the food. The people of this megalopolis like eating out more than ever before and have become real connoisseurs of fine cuisine. The editors of the October issue present reports on the best fish restaurants in Moscow – La Mera, La Viol, Filimonova and Yankel, and Seidzhi. And for those who love more than just gourmet fish, the Restaurant Review section offers a look at the restaurants Floridita, Beef Bar, Prostye Veshi 2 (Simple Things 2), Remi and Manon.
In the pre-holiday season, the Shopping section offers a review of Moscow's gift shops where readers can find unusual and vintage home décor items. In the Moscow Life section, journalists ask the question: Why are the VIP, first class and luxury categories so popular in Russia? How does a VIP funeral differ from an ordinary one? The Travel section continues this theme by examining luxury vacations to the United Arab Emirates and other resorts on the Arabian Peninsula.
The next issue of the Moscow Guide will go on sale on December 4, 2008.