The Moscow Times at Reclamania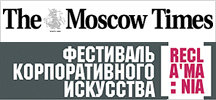 The first festival of corporate art, Reclamania, will begin on November 18. As part of the festival, The Moscow Times will present two marketing projects it conducted this year:
The Create Yourself social art project and charitable program (www.sotvorisebya.ru);
The Insight social film (www.pro-zrenie.com).
The festival examines how the corporate milieu, its culture, images and symbols influence people's living space as well as the cultural and aesthetic dimensions of their lives. The festival also poses the question: What is the correct use of art in developing modern business communications? The festival consists of three parts - an exhibition of art projects by various Russian and foreign companies, a "brand film" movie contest, and seminars on environmental marketing, communications and the interplay between art and business.
The festival will include:
How cement mixers became art objects displayed on the Winter Palace Square in St. Petersburg;
The nature of Lifestyle from Jaguar;
What kind of art is possible - living, dancing and singing in the big city;
The Reading Person project will gladden viewers with the classical art of the Tretyakov Gallery;
Cardboard humans who try to improve Russia's image.

The marketing directors and brand managers of famous companies will speak at the unique seminars on environmental marketing. Guests will also be able to participate in the marriage dispute "How to wed business and art?" - polemics between representatives of the business and art worlds about who is guilty and what needs to be done.

The festival will be held from November 18 to 21 at the M'Ars Gallery (Pushkarev Pereulok, building 5, Moscow). More information is available at the website www.reclamania.ru.