NG Traveler Invites Readers to European Day of Languages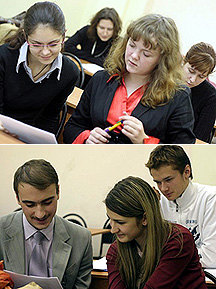 From November 11-14, 2008, the Higher School of Economics (www.hse.ru) on Pokrovsky Boulevard will host the European Day of Languges. The event is organized by the Moscow division of the European Student Forum AEGEE-Moskva, with support from the State University Higher School of Mathematics and National Geographic Traveler magazine.
As part of the European Day of Languages, a presentation of various languages will take place from 6 p.m. to 9 p.m. each evening from November 11-13. The languages will include Finnish, Norwegian, Swedish, French, German, Spanish, Italian, Czech, Serbian and others. Results will be announced on November 14, when participants will drink tea together and enjoy a friendly setting, an entertaining program and a number of surprises.
National Geographic Traveler will make a presentation of the magazine during the festival's closing ceremony. Guests will have a chance to see the latest issue and to take advantage of a special subscription offer. The five students who are judged to have been the most active during the three days of the festival will receive a gift from NG Traveler - the National Geographic book series.
Organizers of the European Day of Languages include the Czech Cultural Center, the French Cultural Center, the Scandinavian School, the Greek Cultural Center, the Italian Institute of Culture and National Geographic Traveler magazine.
The schedule of festival events is available at www.ngtraveler.ru. Additional information can be found at www.edl.aegee-moskva.ru.