Men's Health at the 15th Annual Ski Salon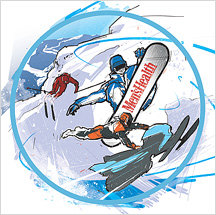 The 15th Anniversary Ski Salon - the most popular exhibition in the ski industry and which Men's Health traditionally takes part in - was held at the end of October at Gostiniy Dvor. This year, the Men's Health display offered visitors the opportunity to try their strength and ability on the Nintendo Wii Fit play-fitness machine, have their photo taken against a backdrop covered with graffiti, and receive complimentary gifts.
During the 15 years of its existence, the Ski Salon has transformed from an ordinary exhibition into a club of specialized interests, attended by people who enjoy active sports, extreme forms of recreation and travel. A person's age or level of income has no meaning here: Businesspeople in expensive suits stand on equal footing with teenagers as they peruse the displays of new equipment and check out snowboard or downhill ski sets of their liking. Many people visit the Gostiniy Dvor complex just to hang out with friends and acquaintances. The Men's Health display stand is one place for such meetings because the magazine has been supporting and organizing various extreme sports activities for many years.