The Moscow Times Presents the "Create Yourself" Exhibition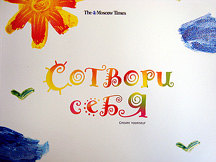 An unusual exhibition titled "Create Yourself" opened on November 17, 2008 at the Moscow Museum of Modern Art. On that day the artists were children, and the adults were their guests.
Not everyone can boast that they were artists at six or 12 years of age, had a portfolio of their own drawings and could invite parents and friends to the opening of a personal art exhibition.
The children who participated in the Create Yourself exhibition did just that - and more.
Together with the Wizards holiday agency, the young artists not only created new pictures titled "The World on Your Palms," but also participated in theatrical and musical contests and a soap bubble show. The exhibition's opening became a real holiday thanks to tasty treats from Creperie de Paris restaurants and complimentary gifts from Ferrero and Exmo Publishers.
The organizers of the event would like to give a great big thank you to the little artists. They are true artists now, and can confidently show off their exhibition photo album to family and friends. Thanks to their beautiful pictures, people learned about the Create Yourself program sponsored by The Moscow Times and CAF, and were inspired to help other children as well. Children, continue creating - drawing, photographing, writing stories. Your creativity helps our world become more beautiful and kinder, and people believe that everyone is capable of accomplishing a great deal in his or her life!
Each artist was given his or her first real album, and the organizers are positive that new creative endeavors and successes await them all
The event's organizers extend their sincere gratitude to the project's general partner - VTB Capital company, to the German printing factory and the Alexander Brown company for printing the albums, to the Moscow Museum of Modern Art for housing the exhibition, and to the many companies that provided support for the Create Yourself program - MTT, Marriott Aurora, Pepeliaev, Goltsblat & Partners, Ernst & Young, Strategy Partners, Kukhnistroi, Salans, the Russian Academy of Arts, Smart Action, Exmo Publishers, Stage Entertainment, Ferrero, the International Animated Film Festival as well as to many individuals.