National Geographic Russia Presents Exhibition by Sergei Gorshikov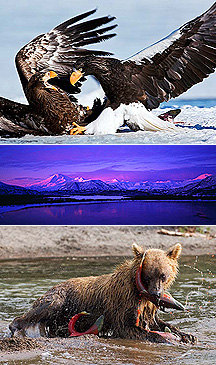 National Geographic Russia will stage Sergei Gorshikov's photo exhibit "Kamchatka" from November 26 to 30 as part of the 10th Annual International Exhibition of Intellectual Non-Fiction Literature.
For many years, Sergei Gorshikov has been photographing the wildlife of Kamchatka, but with each passing year, his feeling of anxiety has been growing: The world he photographs is in danger. Now, Sergei Gorshikov and National Geographic Russia invite you on a captivating photographic journey to that extraordinary and remote region that might disappear in the nearest future.
Gorshikov said, "The lens serves as a link between me and the wildlife. Through it I see, record and try to convey the beauty of wild nature - to depict something of what I have seen and experienced firsthand of a world that is slipping away and gradually disappearing from the face of the earth."
National Geographic Russia editor in chief Andrei Dubrovsky said, "The first time Sergei Gorshkov walked into our office, we knew he was the right person for the job - a photographer and a naturalist who understands the subtleties of nature and its inhabitants. He is not a professional. This is his hobby, but his talent is amplified by his gifts as a naturalist and photographer. He has an amazing ability to spot remarkably interesting things and the skill required to present them in an unexpected way."
At the 10th Annual International Exhibition of Intellectual Non-Fiction Literature, National Geographic Russia will have a stand where visitors can peruse National Geographic magazines and books. The stand will also include Sergei Gorshikov's photo album, Kamchatka, published by Bely Gorod (White City) Publishers, and produced with support from the magazine.
Exhibition guests will have not only an opportunity to enjoy the beauty of Kamchatka's vanishing natural beauty, but can also make their contribution to the region: Our stand will display the World Wildlife Fund program for protecting the Kamchatka region and volunteers from the Wildlife Defense Fund will also be on hand.
The exhibition will run from November 26 to 30 at Moscow's Central House of Artists on Krimsky Val, building 10. More details are available at www.expopark.ru.