MacDougall's House Guests Receive Art & Antiques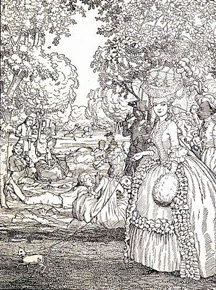 The MacDougall's Auction House is presenting its new collection of over 700 lots at the most recent autumn sale during London's Russian Week. The sale is taking place in London on November 25-27, 2008 and will consist of three auctions. About 150 guests were invited to the closed pre-auction showing by MacDougall's House, that will take place on November 23. The first issue of Art & Antiques will be presented as a complimentary gift to each of the guests invited to the event.
The collection of classical art to be presented at the MacDougall's sale includes masterpieces by I. Levitan, K. Korovin, A. Begrova, A. Bogolubov, M. Klodta, F. Lagorio, B. Anisfeld, K. Somov, A. Ekster, P. Konchalovsky, as well as works by master Russian sculptors Konenkov, Mukhin and Erzya. This is the first time in London that the MacDougall's basic collection will include such a wide selection of art pieces -- from 19th century works to outstanding examples of the Austere Style. The current sale, to which a whole set of paintings was donated, will be dedicated to masterpieces of non-conformism, as well as prominent works of art.
The top lots in the autumn sale of collections titled "XIX and XX Century Russian Art Sale" include the sketch "The Book of the Marquise" by Konstantin Somov (estimated price: $1.5 million - 3 million pounds sterling), "Illumination of the Kremlin" by Isaac Levitan (estimated price: $900,000 - 1.5 million pounds sterling), "A View of Kiev. Andreyevskaya Hill" by Mikhail Klodta (estimated price: $800,000 - 1.2 million pounds sterling), works by Alexander Begrov and Maxim Vorobyov, as well as sculptures of the 1910s to 1930s.
The post-war and modern part of the sale promises to shine with a few outstanding collections. The auction will include masterpieces of the 1960s by O. Rabin, D. Plavinsky, V. Nemukhin, A. Kharitonov, V. Yankilevsky, E. Rukhin and V. Sitnikov. Also included will be a selection of stellar work by nonconformist artists that was originally assembled in Moscow in the 1970s, taken out of the Soviet Union, and until recently kept in storage in Pakistan.
Among artwork from the 1980s will be a few lyrical works by Semyon Faibisovich, art objects by Konstantin Svezdochetov and art projects by Aidan Salakhova. Artists from post-conceptual circles have gained increasing popularity at auction sales, and MacDougall's will offer a wide range of contemporary art.
Picture: Konstantin Somov. An illustration to the "Book of the Marquise."