Yes!-Stars at McDonald's Day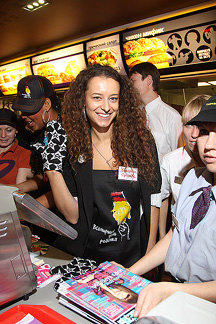 In honor of World Children's Day on November 20, McDonald's Pushkinskaya restaurant held its annual "McHappy Day" fundraiser. Show business stars stood by cash registers all day and invited customers to contribute to helping children by buying French fries or designer mittens by Masha Tsigal. All money from the sales went to the charitable Ronald McDonald Foundation.
Yes!-Stars supported the project by placing the editor of the magazine's website, Yekaterina Suchkova, behind a cash register. Every person who ordered at her counter received a complimentary copy of the magazine. During her 20-minute shift, Suchkova sold more than 20 pairs of mittens and about five kilograms of French fries. That means even more money for saving children.
Celebrities who turned out in support of the event included Vlad Topalov, Alexei Vorobyov, Irena Ponaroshka, Yulia Savicheva, Anastasia Stotskaya, musical groups Blestyaschiye, Tootsie, Dynamite, Hi-Fi, Reflex, Otpetiye Mosheniki, the lead performers from television programs Comedy Club and Dom-2 and many more.