Men's Health at the Olympisky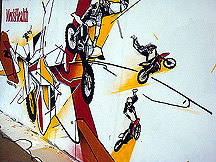 The largest moto-freestyle competition in Russia - the Adrenaline Rush FMX Masters - was held at Moscow's Olympisky Sports Complex on November 15 and 16. Men's Health magazine took part in the event and organized its own display stand in the foyer of the sports complex.
It would be pointless to try to convey in words what happened in the arena - you would have had to see if for yourself. The most famous moto-freestyle riders of the world were divided into two teams, named after Russia's two capitals. They demonstrated stunts of unbelievable beauty and complexity to a wildly supportive capacity crowd. None of the audience members had to be "pumped up" for the experience - everyone came ready to see an amazing spectacle. Therefore, the experienced and professional freestylers kicked right off with stunts of third category of difficulty. There was almost no pause between jumps - which the audience liked most of all.
After the teams had made three sets of jumps each, the evening's show came to its culmination - the Freestyle Motocross Jam, in which the riders performed as a group, showing off their most difficult stunts one after another. The competition ended with an awards ceremony. After two days of competition, first place went to Dany Torres of Spain. The second place trophy went to American Mike Mason - who has more than once won the X-Games, the Olympic Games of extreme sports. Third place was awarded to Alexei Kolesnikov, the only Russian among the world's top 14 moto-freestylists.