National Geographic Russia at Non/Fiction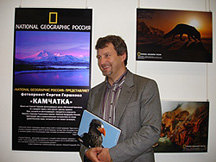 The opening of the "Kamchatka" exhibition by Sergei Gorshkov and a presentation of a photo album by the same name took place on November 26. The National Geographic Russia stand at the 10th International Exhibition of Intellectual Non/Fiction Literature became a gathering place for professional and amateur fans of photographic art, lovers of wild nature, and of course, the magazine's faithful readers.
Guests viewed a photographic exhibition of Kamchatka's animal world. It took National Geographic Russia's staff photographer, Sergei Gorshkov, five years to collect the materials. In that time he was able to record truly unique images in the lives of the region's wild animals -- many of which are at risk of disappearing from Kamchatka.
The NG stand also made a presentation of the "Kamchatka" photo album produced by Bely Gorod (White City) Publishers with support from the magazine. Sergei Gorshkov told guests about the genesis of the idea for the photo series, described the actual process of shooting, and shared his impressions about Kamchatka's magnificent natural wonders.
The "Kamchatka" photo exhibition and the National Geographic Russia stand were in place through November 30 at the Central House of Artists, Krimsky Val 10.