New Year's Shopping with Yes! magazine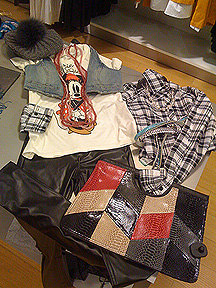 In December, a campaign called "New Year's Shopping with Yes! Magazine" is being held in the youth clothing departments of Stockmann stores in Mega shopping centers (Belaya Dacha, Khimki and Tyoply Stan). Now you don't have to rack your brains in choosing a New Year's gift or deciding what to wear for the holiday night. Yes! magazine stylist Yekaterina Klimova has solved that problem for you.
Store mannequins sport outfits reflecting the latest fashion trends, and that are suitable for special holidays. At the "gifts table," shoppers will find a selection of the most creative and original gifts that any stylish young lady would be happy to receive.
Shoppers will find an assortment of items bearing the "Yes! Choice" label that is updated every week - making it possible to choose the best clothing options for themselves and their friends.
The campaign will be advertised over the in-store radio, and on signs posted in Stockmann store showrooms.