"Best Life" Program on Best FM Radio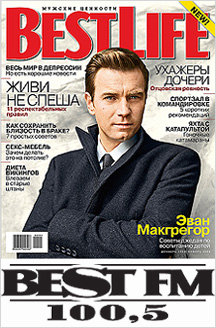 Beginning December 5, the "Best Life" program will air every Friday on Best FM radio 100.5 from 10 a.m. to 11 a.m. Best Life magazine's editor-in-chief Alexander Grek and Best FM radio host Artyom Korolyov will discuss men's issues live on the air.
Each program will discuss one topic from the latest issue of Best Life magazine. The themes for the December programs are:
A father's jealousy toward his adult daughter.
How to retain closeness in a marriage.
A diet for 40-year-old men.
How to avoid stress and enjoy life.
Program listeners and the magazine's readers can call the hosts with their questions and participate in the discussion.
Best Life is a magazine for well-to-do men who like to enjoy life. Best FM is a radio station for people with good taste and is aimed at a specific "quality" audience. The magazine's readers and the radio station's listeners are financially well off, educated, from 25 to 44 years old and have achieved high social status.