New Year's Style from Seasons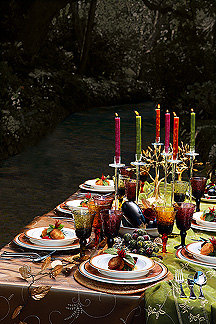 For one month - from November 30 through December 31 - Seasons magazine is conducting a design campaign in Stockmann stores. At these locations, shoppers can meet Seasons stylists and receive their professional advice every Saturday and Sunday from 12 noon until 8 p.m.
Visitors will get a professional point of view as to which gifts would be best for their loved ones for the 2009 holidays, and which would be most suitable for their friends - taking into consideration the individual's personal style and the furnishings of his apartment. Guests will also learn how to elegantly wrap their gifts and how to present them. The stylists will also conduct master classes demonstrating their choices and professionalism so that participants can pick up a few useful ideas for themselves and fill their homes with tasteful, fashionable d_cor items for the New Year.
Finding the stylists at Stockmann stores is simple: They will be wearing Seasons aprons designed especially for the magazine by stylist Yulia Velikanova. Her audacious and talented handiwork produced a work of art more reminiscent of a dress than an apron. Seasons stylists await you in the Home Decor department of Stockmann stores throughout December.