The Moscow Times: New Format for Conferences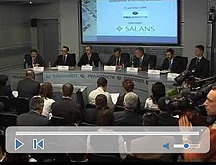 In crisis conditions, the Russian and international audience needs information about what is happening in the Russian market. On December 12 at the RIA Novosti offices, The Moscow Times hosted a conference in a new format - as a live Internet broadcast titled "2008 Results. Strategies of Russian and International Companies in Crisis."
 
Directors of Russian companies from various sectors shared their views and their recommendations. Participants discussed the effects of the crisis on different sectors of the Russian economy, prospects for development in 2009, changes in consumer behavior during the crisis, as well as the more unpleasant issues of layoffs, downsizing and bankruptcy. Special attention was given to recommendations and prognoses: How will 2008 end? What are the expectations of Russian businesses, and what actions are they expecting the government to take? What new opportunities are open to businesses during the crisis?
The roundtable specialists who spoke included Alexander Idrisov (Strategy Partners), Fyodor Prokopov (RSPP), Timothy Stubbs (Salans), Ivan Ivanchenko (VTB Capital), David O'Hara (DTZ), Shani Kogan (Otkritie FC), Alexander Orlov (Arbat Capital Management).
More than one hundred delegates and representatives of the press took part in the actual event, while the new format enabled over one thousand additional people to join the conference via Internet.