The Best Gift – National Geographic Russia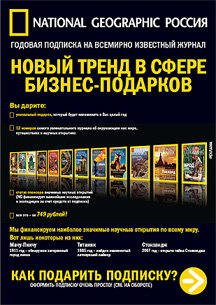 The December issue of National Geographic Russia offers a new type of corporate and business gift – a one-year subscription to the world-famous magazine. It is an excellent way to congratulate your business partners and colleagues for the coming holidays.
A subscription to National Geographic Russia is:
A unique gift that will remind the recipient of the giver all year long;
12 issues of the most fascinating magazine covering the world around us, travels and scientific discoveries;
The recipient becomes a sponsor of significant scientific discoveries – National Geographic finances highly important research and expeditions with income from subscriptions – and every subscriber receives a corresponding certificate;
All of this for just 749 rubles per year.
Here are just a few of the scientific discoveries achieved with the financial support from National Geographic:
Machu Picchu, 1911 – discovery of the lost city of the Incas;
The Titanic, 1985 – the famous liner was found on the ocean floor;
Stonehenge, 2007 – solution to the riddle of Stonehenge.
The next important discovery might take place with your business partner's assistance – present him with that opportunity.
The person paying for a one-year subscription will receive a certificate from National Geographic that he can give to his business partner or colleague. The buyer can also arrange to have a congratulatory New Year's card from National Geographic sent to the recipient informing him that he has been given a subscription to the magazine.
Interested people can order subscriptions at the press store on the first floor of the main building of the Independent Media Sonoma Magazines Publishing House, or by calling 232-92-51.