Four Seasons of Seasons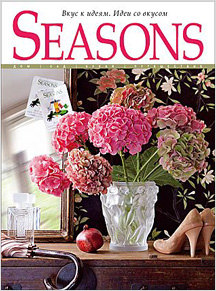 In 2009, Seasons will come out four times during the year -- in April, June, September and December. As it has in the past, the magazine will present striking interiors, report on fascinating people who create beautiful objects, stroll with its readers through wonderful European gardens, publish recipes from the world's best chefs, and simply marvel at the details of life that surround us every day.
It isn't necessary to embark on an exotic trip to achieve inner harmony. Sometimes it is enough to simply open a favorite book, watch a favorite film, prepare a favorite dessert, admire a favorite rose in your garden, or invite your best friends over for dinner. All of these simple things can be very therapeutic.
Each issue of Seasons will coincide with a major enterprise to be announced in the magazine: The spring issue will be dedicated to "Anglomania," a festival of British design and lifestyles. The summer issue is themed to "A Midsummer Night's Dream," with nighttime activities to include live music and boating. The fall issue will coincide with an event that is a traditional favorite for many of the magazine's readers -- the Seasons Festival at the Hermitage. The winter issue will announce a Christmas fair.
Seasons will launch a new website in April 2009 so that readers who have become accustomed to seeing the magazine every month will not suffer from a shortage of contact with it. Moreover, the site will enable readers to communicate with the magazine's editors, various specialists, and with each other on a daily basis. The magazine is planning to make a video collection of master classes conducted by the best decorators, florists and chefs and include them on DVDs in each issue of Seasons.
In addition, Seasons has decided to gather an intriguing group of people together and introduce them to its readers with the help of a new project -- the Escape school, to be held with the magazine's support. Architects, designers, decorators, animators and art critics will give lectures and conduct seminars in an informal atmosphere. In this way, readers can escape reality for a few hours, returning to the real world equipped with new knowledge, emotions and ideas.