National Geographic Presents Master Class by Kirill Samursky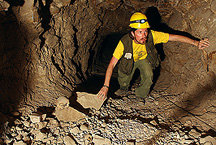 National Geographic magazine and Moscow's A. Rodchenko School of Photography and Multimedia are conducting a series of master classes. Kirill Samursky will conduct the next master class in the series on February 17.
Kirill Samursky is a journalist, traveler, Orientalist and, since 1991, professional photographer. He has contributed to National Geographic publications in many countries of the world, and has been a regular contributor to the Russian edition of the magazine since 2003. During his career, Samursky has traveled to many countries and visited some of the world's most remote and inaccessible regions, including Yakutia, Kamchatka, Pamir and Afghanistan.
"Photographing Archeological Expeditions" will be the theme of Samursky's master class. The seminar will consist of three parts: choosing a theme for the shoot; the photographer's accoutrements and equipment for the expedition; and the peculiarities of shooting archeological expeditions.
The famous photographer will also field questions from the audience.
National Geographic Russia's intensive course on photojournalism consists of five seminars held periodically through May 2009. The series is conducted by prominent photographers whose work has appeared regularly on the pages of the magazine. Andrei Kamenev conducted the first class on "Extreme Sports Photography," sharing his rich experience shooting extreme sports in the water, in the air, on land and in the mountains.
At the conclusion of the course, all attendees will receive commemorative diplomas and gifts, and the five most active participants will be given a complimentary six-month subscription to the magazine.