Elizaveta Osetinskaya: "Vedomosti is a profitable publication."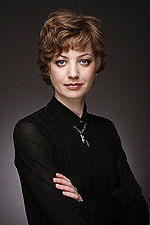 Elizaveta Osetinskaya, the Editor-in-Chief of Vedomosti newspaper, gave a major interview to the Vesti informational television channel.
The channels' journalists were interested in the opinion of editor-in-chief of Vedomosti  – Russia's leading business newspaper. Questions included: Has the economic crisis affected the newspaper, its distribution or the number of subscriptions? How is the crisis affecting the publishing business as a whole, and, in general, what future awaits Russia's media?
We invite you to listen to a recording of the interview.
Elizaveta Osetinskaya was born in Moscow on May 3, 1977. She graduated from Moscow State University with a degree in economics in 1998, and earned an M.B.A. from the Kingston Economics Academy of Great Britain in 2005.
Osetinskaya received her journalistic training at the university. From 1995 to 1997 she worked at the RosBusinessConsulting agency, and from 1997 to 1999 for the Sevodnya newspaper as a correspondent for the economics section.
In 1999 Osetinskaya joined Vedomosti as a correspondent and deputy editor. In 2001 she became the editor of the Industry and Energy section of the paper. In 2002 Osetinskaya took the job of deputy managing editor and oversaw the Companies and Markets section of the paper. In 2004 she became the newspaper's managing editor.
In 2007 Elizaveta Osetinskaya was named the Editor-in-Chief of Vedomosti.