International Herald Tribune: Three Years in Russia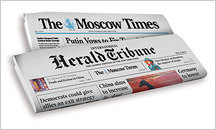 February 1, 2009 marked three years since the worldwide newspaper, the International Herald Tribune (IHT), formed an alliance with The Moscow Times, the only Russian daily paper published in English. The Moscow Times has been printing and distributing IHT in Moscow since 2006.
During that time, both newspapers have strengthened their position in the foreign-language segment of the press market thanks to their unique informational product, the "Moscow Times + IHT" packet providing both international and Russian news in English.
Subscriptions to the International Herald Tribune and The Moscow Times grew by 16 percent in 2008, and that figure has risen to 20 percent during the first part of 2009 as compared with the same period last year. This demonstrates readers' high level of loyalty to the English-language business and news publications.
International Herald Tribune is the only worldwide newspaper printed in Russia. That is why it is possible to deliver the paper to Moscow subscribers early in the morning on the same day it leaves the presses.