Good News from Yes! Magazine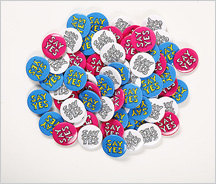 The "Say Yes" charitable campaign using the slogan "Buy a button – help children," has been operating successfully since November 2008. The special buttons can be purchased at Moscow stores Respublika, Kira Plastinina and Build-a-Bear Workshop. The success of the campaign – in which celebrities are participating – continues to grow, and the booming sales cannot but make us happy. Not a single button is left in any of the central stores after just the first week of sales.
Anyone living in even the most distant location can also buy a button by sending in an SMS request. Extremely high interest has been shown by people in the Kemerovo, Yaroslavl, Tyumen and Samara regions, as well as in Ukraine and Kazakhstan. In just the last few days, the number of SMS requests received has surpassed 500. That means that hundreds of Yes! readers in Russia's regions and neighboring countries can wear their Say Yes buttons and make their contribution to the charitable campaign.
An additional batch of buttons was produced as a result of the successful campaign. The first assessment of the project's results will be made at the end of February.