National Geographic Invites Readers to Finnish Culture Festival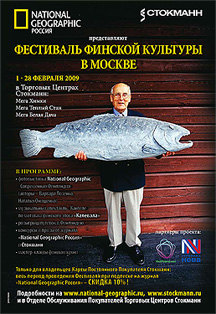 National Geographic Russia magazine declares February 2009 a month of Finnish culture in Moscow. From February 1 to 28, every Stockmann Shopping Center in the capital will host National Geographic's Festival of Finnish Culture.
The festival program includes:
National Geographic's "Modern Finland" photo exhibition with work by the magazine's regular contributors, Varvara Lozenko and Natalia Onischenko;
A musical performance on the kantele (Finnish dulcimer) on the motif of the Finnish epos Kalevala;
Master classes for preparing Finnish culinary dishes;
Lotteries awarding free trips to Finland;
Contests and prizes from National Geographic Russia magazine and Stockmann Shopping Centers.
Throughout the festival, all Stockmann customers who purchase a subscription to National Geographic Russia magazine will receive a 10 percent discount on their purchases in the store and, as always, will be able to pick up the latest issue of their favorite publication.
VisitFinland and the Neva travel agency are partners to the festival.
The festival is being held at Stockmann Shopping Centers located in the Mega malls at Khimki, Tyoply Stan and Belaya Dacha.
More details are available on the websites www.national-geographic.ru и www.stockmann.ru.