Yes! – Romance on Ice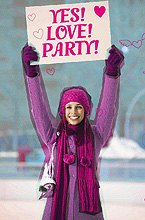 On February 13 – Valentine's Day eve – Yes! magazine and the Loveplanet.ru dating website invite readers and friends to a romantic "History of love" party at the Yevropeisky skating rink.
There to congratulate everyone for the lover's day will be the groups BiS, Chelsea, Barkhat, as well as Vlad Topalov, Alexei Vorobyov, Ed Shulzhevsky, Dino MC, Dakota, Max Lorens, stars from the TV shows Ranetki (Little Apples), Univer (Can-do Man), Lyubov na Raione, Papiny Dochki (Papa's Daughters) and others. Special guest – Nastya Zadorozhnaya.
Guests will also find the following:
Announcement of the results of "The History of Love" project: A contest between four finalist couples who will compete for the grand prize – a one-week trip for two to the St. Raphael SPA-hotel on Cyprus – and for the couple winning the most votes, the "audience choice" prize – a week-end in a first class hotel room in Moscow;
A Valentine's contest: The author of the best Valentine will go home with a stylish red laptop computer, and the runners up will receive equally pleasant prizes;
Awards from the web portal Loveplanet.ru that is visited by 14 million people;
Moving declarations of love and romantic dances on ice.
Turning up the heat on the ice skating rink will be DJs from radio DFM: the inimitable Vera and the unpredictable Yegor Plotnikov.
The first 500 guests will receive complimentary tickets to a special showing of the new film "Confessions of a Shopaholic."
Advertising spots promoting the party will air on DFM radio from February 1 to 13. Posters announcing the romantic party will be placed in major Moscow institutes and universities as well as in movie theaters. The Internet-based ad campaign includes a host of major youth-oriented sites: anekdot.ru, pochta.ru, newmail.ru, 5ballov.ru, aeterna.ru, kards.ru, readme.ru and others.