Intellectuals' Club from Harvard Business Review – Russia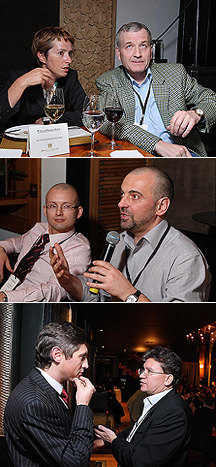 Harvard Business Review - Russia and Royal Salute continue a tradition begun last autumn - meetings of the Intellectuals' Club.
Those attending the second meeting were no less impressive than guests who came to the first. They included Sergei Petrov (State Duma deputy and Rolf company founder), Sergei Nedoroslev (Kaskol), Boris Nuraliyev (1C), Olga Dergunova (Vneshtorgbank), Dmitry Zimin (founder, VympelKom), Alexander Landia and Olga Belova (SUEK), Sergei Matsotsky (IBS), Grigory Kulikov (Miel Real Estate), Marlen Manasov (UBS), Andrei Sviridenko (Spirit), Boris Scherbakov (Oracle), the well known designer Vladimir Pirozhkov, and many other people famous in the business community.
Businessmen have already acknowledged that the club hosted by Harvard Business Review - Russia and Royal Salute is a great place for conversation and a good way to establish business contacts and exchange news. Participants began actively conversing right at the bar, continued as they sat down at their tables and even found it difficult to stop when the formal program began.
The discussion theme was the same as that used for a survey on the Harvard Business Review website: Do you agree that companies should follow ethical principles, even if it leads to financial losses or bankruptcy? The magazine's editor-in-chief, Yelena Yevgrafova, made some brief remarks on that theme and then suggested that participants continuing discussing it over dinner. During dessert, Yevgrafova again took the microphone to guide the general discussion.
The meeting took place in a convivial atmosphere, with the last guests leaving the restaurant long after midnight.