Yes! Confesses Love for its Readers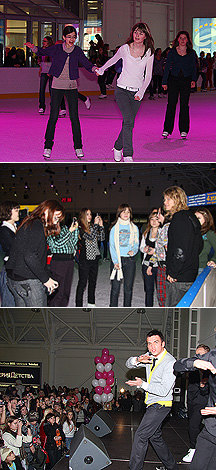 On February 13 at the Yevropeisky skating rink, Yes! magazine once again professed its love for its readers. And despite the fact that it was rather cool on the ice, passions were building with every passing minute. After all, that day marked the culmination of "The History of Love" project in which a few thousand people participated.
Throughout the evening, four finalist couples competed for romantic vacations. The finalists thawed icicles like the characters in the popular Snow Queen fairy tale, guessed songs and confessed their love for one another. The most charming couple received the main prize, while spectators gave the Audience Choice award to the most original couple.
Over 500 submissions were considered in the Valentine's greeting card contest, with the best design earning its creator a stylish laptop computer. Celebrity guests read many of the cards from the stage.
All evening long, the inimitably creative DFM radio DJ team of Vera and Yegor Plotnikov hurled Cupid's arrows at the audience. Considering the fact that the number of lovebirds increased minute by minute, they were clearly successful in their efforts.
Celebrities who congratulated the assembled guests included Vlad Topalov, Nastya Zadorozhnaya, Alexei Vorobyov, the groups Chelsea, ST, Barkhat, Dakota, Cornelia Mango, Kira Plastinina, Olga Buzova, Max Lorenz, actors from the Papiny Dochki (Papa's Daughters) comedy series, the Univer (Can-do Man) series, and others. Many stars were not afraid of taking to the ice along with the guests, still managing to pose for photographs with their fans and sign autographs.
A video report of the Yes! romantic party will be aired on the RuTV channel.