Art & Antiques Invites Readers to Exhibition by Andrei Lanskoy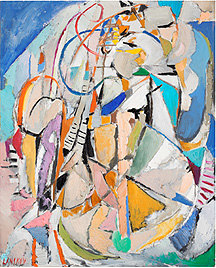 Art & Antiques magazine will serve as the informational sponsor to an exhibition by at the Eritazh International Art Gallery. With this event, the gallery celebrates its anniversary, as well as the first year of its work on Petrovka Street in Moscow.
The exhibition will run from February 19 to March 5, 2009. Andrei Lanskoy was a maestro among Russian emigrants and his abstractionist paintings were first shown in Russia only in 2006 -- 30 years after his passing. Count Andrei Mikhalovich Lanskoy was a student of Vasily Kandinsky and lived a major portion of his life in Paris. To this day, he more famous in France than in his native country.
This exhibition includes paintings never before shown in Russia as well as works displayed in 2006 in the Puskhin State Museum of Fine Arts and the Russian Museum. The exhibition includes works from the Eritazh Museum's collection as well as from private collections. The exhibition includes early primitive works, collages and pictorial works from the period of Lanskoy's artistic blossoming -- the 1960s, when his palette took on its unique, colorful expressiveness.
All of the guests at this unique event will receive a complimentary copy of Art & Antiques. All complimentary tickets display the magazine's logo, and an Art & Antiques advertising banner will hang in the exhibit space.